I was never a big coffee drinker until I became inducted in the sleep deprivation club that comes with motherhood. I would indulge in a cup after dinner whenever we went out, but now I can't imagine starting my morning without a hot cup of java.
Now that cool fall air welcomes me in the early morning, I must have a steaming cup in hand as I walk out the door.  I'm no coffee snob and have tried many different types of coffee and coffee makers. If you're searching for the perfect coffee maker, it really depends on your lifestyle. No matter which one you choose, you're saving money by skipping the pricey coffee shop. (This post contains affiliate links.)
Which Coffee Maker Is The Best For Me?
What: Ceramic drip coffee filter
Best for: One cup of coffee; leisurely mornings; impressing a coffee snob; small kitchens
Pros: Low tech, easy to use, easy to clean, inexpensive, easy to store
Cons: Only makes one cup at a time, takes longer, needs kettle to heat up water
Pictured: Red Euro Ceramic drip coffee filter from World Market
My sister first introduced me this simple ceramic drip coffee filter, which she used exclusively when she lived in Japan. Set the filter over your mug, insert a standard coffee filter, add your desired amount of ground coffee, and pour hot water over. Perfect if you just need one cup well-brewed of coffee.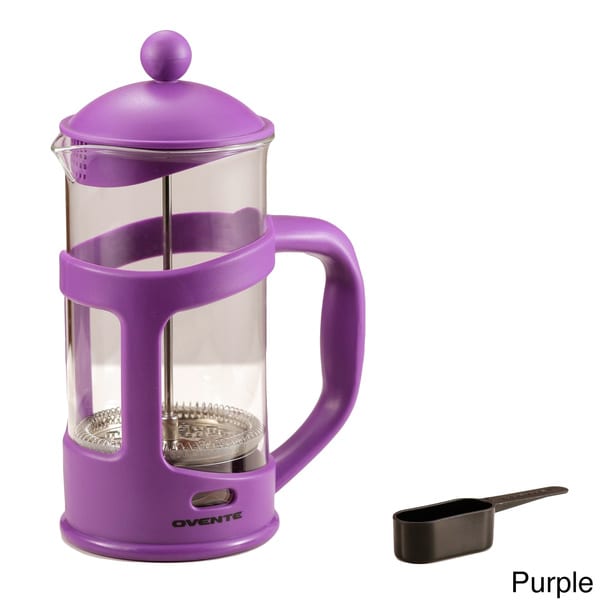 What: French Press
Best for: multiple cups of coffee or for sharing
Pros: Easy to use, looks great at the table, comes in different sizes and colors, small footprint
Cons: Takes more time to prepare, several parts to wash, coffee gets cold more quickly, need needs kettle to heat up water
Pictured: Ovente 34-oz French Press with scoop
Of all the different types of coffee makers, we loved our French press the most. We could make our coffee as strong as we wanted. Since both my husband and I are coffee addicts, we had a fairly large French press. The only problem was that if we overslept, we didn't have time to make coffee since the French press takes a little more thought to prepare coffee.
What: Drip Coffee Maker
Best for: multiple cups of coffee or after dinner party
Pros: Easy to use, more advanced machines come with timers and "strong" brew options, one button brewing
Cons: Larger size meaning takes up more counter space, needs regular cleaning, requires electricity
Pictured: Hamilton Beach 2-Way Single Serve Brewer

We recently scored this Hamilton Beach coffee maker for $20 so I had to give it a try. (Thanks to the Kindle with special offers!) I immediately fell in love with it. While the foodie in me loved the how great our French press coffee tasted, the timer option and large capacity made it perfect for our busy family. My husband, who's a bigger Starbucks addict than I am, rarely stepped foot into one once we started using this coffee maker. My only gripe is that it takes up a lot of space on our small kitchen counter.
What: Keurig 2.0 Brewer 
Best for: Single cups or 3-4 cup carafe
Pros: Easy to use, advanced version offers timer, brew strength, dispenses hot water for tea, can brew a small carafe, brews hot chocolate and iced teas with specific K-cups, K-carafe pods are recyclable
Cons: Can only use Keurig branded K-cups, does not take refillable K-cups, K-cups are pricey, large footprint, K-Carafes are currently only available online, takes time to heat up
Pictured: Keurig K550 2.0 Brewer
I was thrilled when Klout and Keurig sent me their newest machine to try out. It's got plenty of bells and whistles that make each cup or carafe easy to customize with a few taps on the touchscreen. The K550 is our family's first Keurig. I really like the ease and convenience of the Keurig, but am very disappointed that I'm unable to use refillable K-cups (even the ones that Keurig sells) and the K-cups aren't recyclable. I did purchase some K-cups, thanks to the great coupon Keurig sent me for registering my device, so I'm going to reserve my final verdict for a few more weeks.
What: Nespresso Coffee Machines
Best for: 1.4oz espresso or  8 oz coffee
Pros: Makes European style espresso, easy to use, stylish machine comes in different colors, can adjust volume of machine, preheats quickly, brews coffee with crema (creamy foam)
Cons: Big investment, can only use Nespresso pods, pods might be hard to find in stores (but available online)
Pictured: Nespresso Pixie Electric Aluminum

The foodie in me loves a great cup of coffee, especially one that has that amazing crema on top–that creamy foam you see in the photo. While you sip the European style espresso, you can pretend you're sitting in an Italkian cafe. Plus Nespresso has plenty of stylish options and colors which will all look great on your kitchen counter.