This shop has been compensated by Collective Bias, Inc. and its advertiser. All opinions are mine alone. #Homemade4TheHolidays #CollectiveBias
That's how I ended up roasting this sweet, tender delicata squash stuffed with shiitake mushrooms, andouille sausage, and quinoa. I know shiitake mushrooms don't scream "childhood flavors," but hear me out. One of my favorite mushrooms, these are earthy–more flavorful than the more common white button mushrooms. I amped up the mushroom flavor with Campbell's® Condensed Cream of Mushroom Soup. The andouille sausage is a nod to my Louisiana childhood. And the quinoa, well, I just like quinoa.
I remember making stuffed squashed when I first started cooking. It was a disaster! The stuffing burned before the squashed was cooked through. That is, if the squash didn't tip over in the baking pan, making the stuffing fall out. I didn't want a repeat of that disaster, so let me share some tips with you.
Tips For Fool-Proof Stuffed Squash
Buy the right squash: My previous mistake was using acorn squash. Its shape makes it roll around on the baking sheet. I opted for delicata squash, which is more oblong. You can use any winter squash you'd like but I like that delicata is small enough that half a squash makes one serving.
Pre-cook the squash: I roasted the squash for fifteen minutes (while prepping the stuffing ingredients) before stuffing them. After cutting the squash in half lengthways and cleaning out the seeds and stringy pulp, season with salt, pepper, and olive oil. Roast upside down on an oiled baking sheet. Remove from the oven and flip over so they don't overcook.
Flavor quinoa with chicken broth: I love quinoa, but it's bland on by itself. I almost always cook mine with chicken broth. I picked up a 6-pack of Swanson® Chicken Broth at Sam's Club because it's a staple in our pantry. There's nothing artificial added and it comes in a resealable carton. Perfect when I need just a little bit to deglaze a pan or or half a carton to make a quick chicken pho.
Don't dump the sausage drippings: I chose andouille sausage because I miss eating it. This Louisiana-style sausage is one of the most flavorful I've eaten. It's tender with a spicy kick. After browning the sausage, don't pour out the drippings. Scoop out the sausage and cook the onions, celery, and mushrooms in the it. So much flavor!
Amp up the flavor with condensed soup: When you hear Campbell's® Condensed Cream of Mushroom Soup, you probably think of green bean casserole. I was never a big fan of this classic, but my husband remembers it as part of his childhood holiday table. A can of the soup really amped up the stuffing's flavors without adding any preservatives, color, or artificial flavors.
Tableworthy Holiday Side Dish
Hover over the image below to start shopping for Campbell's® Condensed Cream of Mushroom Soup, Campbell's® Condensed Cream of Chicken Soup and Swanson® Chicken Broth.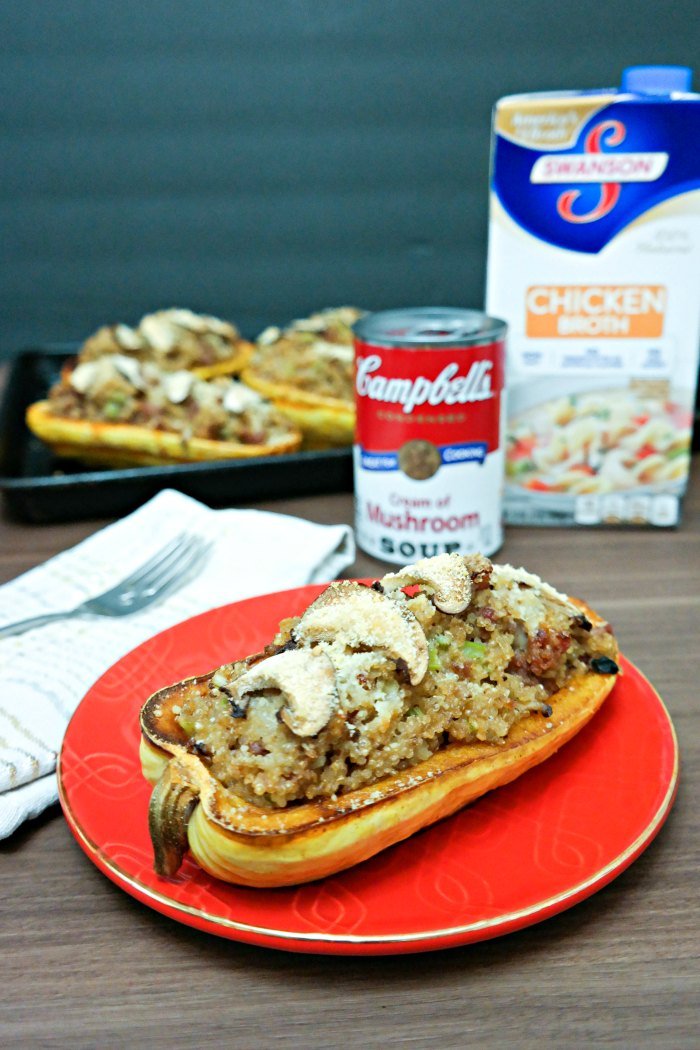 This squash will make everyone in our family happy. It's a new take on a traditional stuffed squash recipe. My kids get the traditional while I have an earthy combination of my childhood flavors.
In the end you'll have a very flavorful side dish that will look gorgeous on your holiday dinner table. It takes a little bit of time to prepare the squash and chop the ingredients, but you're saving time when you use Swanson® Chicken Broth and Campbell's® Condensed Cream of Mushroom Soup.
Swanson® Chicken Broth and a 10-can pantry pack Campbell's® Condensed Cream of Mushroom Soup. Not only are they a good value, but they're great pantry staples. We have a small household, so I plan on donating half of each pack to our local food pantry.
I always look forward to the annual Holiday Taste of Sam's event–where you get a chance to try out easy to make dishes for your holiday gathering. Though I think my kids enjoy sampling the food more than I do! When you visit on December 21-22, you'll have an opportunity to try out Swanson® Chicken Broth with Idahoan Mashed Potatoes. While you're there, don't forget to take advantage of the $1.50 off Campbell's® Condensed Cream of Chicken Soup and Campbell's® Condensed Cream of Mushroom Soup.
Want more holiday recipes with Campbell's® Cream Soups and Swanson® Broth? Click here for more inspiration.

Roasted Mushroom, Andouille, & Quinoa Stuffed Squash
Yield: 6 servings

Prep Time: 20 minutes

Cook Time: 45 minutes

Total Time: 15 minutes

Feel free to substitute the andouille sausage with Italian sausage and the delicata squash with acorn.
Ingredients
3 medium delicata squash
1 cup quinoa, uncooked
2 cup Swanson® Chicken Broth
1/2 pound of andouille sausage, casing removed
1 small onion, diced (approx 1/2 cup)
3 stalks celery, diced
1 1/2 cup chopped shiitake mushrooms
2 cloves garlic, finely chopped
1 can Campbell's® Condensed Cream of Mushroom Soup
1/2 cup grated parmesan cheese (optional)
Instructions
Preheat oven to 375F. Wash outside of squash. Cut in half lengthways and scrape out seed and stringy pulp. Place on an oiled baking sheet. Season inside of squash with salt, pepper, and olive oil. Turn upside down and roast for 10 minutes. Remove from oven and turn squash back over.
In a small pot, add quinoa and Swanson® Chicken Broth. Cover and bring to a simmer. Once most of liquid has been absorbed, remove from heat and allow quinoa to steam.
Add oil to skillet on medium high heat. Add andouille sausage, making sure to break up the sausage into smaller pieces as it cooks. Once sausage starts to brown, scoop out of skillet into a bowl. Save drippings.
Add onions, celery, mushrooms, and garlic to drippings. Cook until onions become translucent, about 5 minutes. Return sausage to the skillet. Add cooked quinoa to the mixture.
Next add 1 can of Campbell's® Condensed Cream of Mushroom Soup. Do not dilute. Mix well into the mixture and turn off heat.
Add stuffing mixture to squash. Top with sliced mushrooms and sprinkle with parmesan cheese (if desired). Return to oven and bake for 25-35 minutes. Serve immediately.
3.5.3229