Instead of beating myself up about the fact I never sent out holiday cards, I've decided to send out Lunar New Year cards. It's most commonly known as Chinese New Year. January 31, 2014 begins the Year of the Horse. In Vietnamese it's called as Tết. For cultures who celebrate it, Lunar New Year is one of the biggest parties of the year. If you want to send out 2014 Lunar New Year cards, here are some Year of the Horse greeting cards that I like. (Some links are affiliate links)
So what does it mean to be born in the Year of the Horse, like me?  Here's a short description of the Horse personality (more in depth version here):
People born in the year of the horse have ingenious communicating techniques and in their community they always want to be in the limelight. They are clever, kind to others, and like to join in a venture career. Although they sometimes talk too much, they are cheerful, perceptive, talented, earthy but stubborn.
Holiday photos are perfect for sharing your beautiful family photos. I love that this Fantastic Fans card from Tiny Prints feature a interracial family! What a cute family they are too.
I personally purchase a lot of Tiny Prints products and they are top notch. They are well designed and printed on high quality paper. Luckily I can always find a coupon code or special sale at Tiny Prints. (Hint: Check my sidebar for most recent coupons in the Tiny Prints banner.)
This GoldenYear card is also from Tiny Prints. You'll find a lot of Lunar New Year cards in red and gold. They denote good luck and who doesn't want good luck for the upcoming year?


This Lucky Horse Lunar New Year Cards from Minted is simple and with a little bit of whimsy. It also offers the traditional greeting of prosperity for the new year.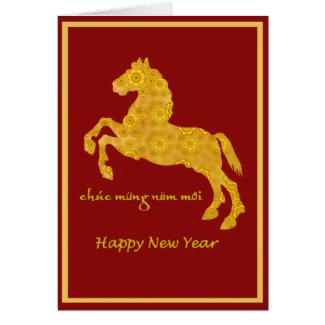 Lotus Petal Pattern Horse Tet Vietnamese New Year Greeting Cards
by DigitalDreambuilder  at Zazzle
This
Lotus Petal Pattern Horse
greeting card reads
"chúc mừng năm mới"
which means "Happy New Year" in Vietnamese. Because this card is on Zazzle, you have different card options: note card, landscape greeting, and portrait greeting.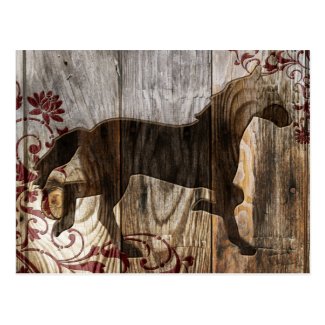 year of the wooden horse post cards
by maydaze at Zazzle
While it's a postcard/notecard I think this card is
Year of the Wooden Horse
is great for the Lunar New Year. If you have extras they're great for any occasion.
Those are just a few of the fun Year of the Horse greeting cards I found. Visit
Tiny Prints
,
CafePress
and
Zazzle
and search for "chinese new year cards" or "lunar new year cards" to see their other offerings.
Does your family send out New Year's Cards?
Stay tuned. I'll be sharing more posts about Lunar New Year!
Year of the Horse photo adapted from original by Newtown grafitti via Creative Commons.